Does not Commute
1.0
Refreshingly cool!
Being fed up with racing games over the years has left me completely blind to any release, mobile or otherwise. But browsing today over what new free games might have appeared on Google Play, I stumbled across this little gem. Having played Smash Hit before promised me that these developers know what they're doing. How do you take a driving game and turn it into a strategic game? Well, this can only happen through the magic of time travel and multiple personality disorder!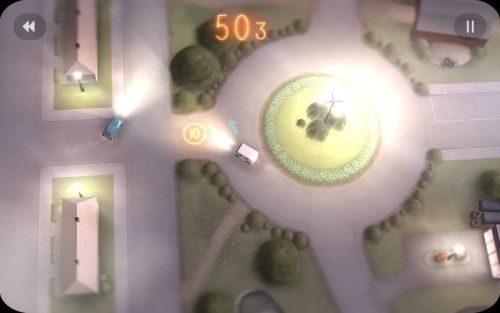 Does not Commute (or simply Commute) appears to be a simple driving game where you need to steer a moving car through an urban landscape for it to reach a defined exit point. You did that, great! Now take another one and do the same. Good! Here's the third one. You will eventually notice that while your first drive was on empty streets, each new challenge will take place in an increasingly crowded traffic. If this might not sound astonishing, just wait till you realize that every vehicle that you see was actually one that you drove before. They're all you!
Essentially, Commute is about planning a driving route in real time while knowing where other participants will pass through... sort of. Each level feels a bit like trial and error, in the sense that gratuitous cornering and zigzagging does not bode well when you will need to tackle the same time and place with another vehicle. Have you ever played a game like this? Me neither. This reminds me of the golden era of gaming when every game had to be a reasonably original concept.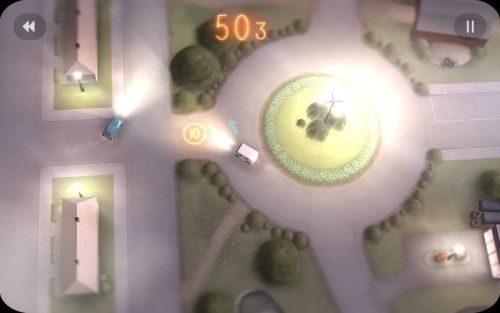 Advancing through a level requires you to resolve all the routes within a set time frame. You can extend the available time by passing over time coins that grant you 10 or 20 extra seconds, which is a lot but require some real detouring later on. Crashing into another vehicle or prop will slow you down considerably. Still, you will always have the option of rewinding a route and recuperating the lost time (minus 1 second). Doing well will grant you permanent bonuses such as turbo speed or better grip. Only one of these can be selected per route which makes for a very good tactical aspect.
Commute could use a fine tuning. You sometimes press a bonus button only to realize that you have actually launched the run instead. Those buttons should have a larger detection zone. Secondly, although you later get the option to test drive your current car (something you will absolutely need to do) it would be nice if you'd be given a general idea about the speed and handling of the car, along with any modifiers applied from the selected bonus.
Conclusion
Does not Commute actually does compute. The design is fresh, the gameplay is fun and the little story snippets that accompany every driver are fun to read. All in all, killing time with this free game from Mediocre is probably the best thing you can do on a spring afternoon. The free version does not allow you to continue from your last checkpoint. So if you really want to avoid buying it (which would be a shame, really) you must not close the app.
---
Add a review
Tell us your experience with
Does not Commute
1.0
RELATED PROGRAMS
Our Recommendations
---
---
---
---